The Cloth Mill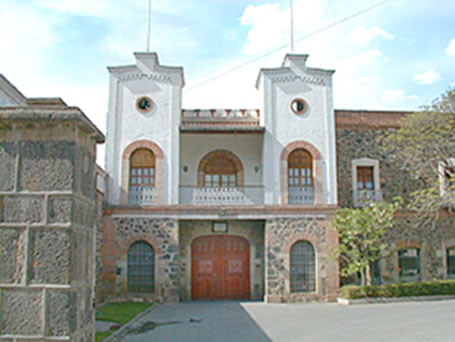 The mill that produces Championship billiard fabrics is located in Santiago, Mexico, a small city located outside of Mexico City. Built in 1888, the Santiago mill is now owned and run by Martin Urrutia. Martin is the 4th generation of his family to own and run the 540,000 square foot facility where some of the finest textile products in the world are produced.
Originally a flour mill and then a maker of burlap bags, the Santiago mill is now the premier manufacturer of billiard fabrics in North America and a leading supplier of fabrics to the men's apparel industry.
Part of what makes Santiago superior to any other mill producing billiard fabrics today is its state of the art machinery. Santiago is the only mill to use an active shearing machine and a vacuum decating machine in the finishing of its billiard fabrics.
The active shearing process uses laser beams to shave the fabric on the top and bottom giving Championship fabrics the smoothest playing surface available today. In addition to creating an ultra smooth finish, active shearing practically eliminates the annoying and undesirable pilling that is commonplace in the billiard fabrics of Championship's competitors.
The vacuum decating machine is the final piece to Championship's finishing process. While being steamed, a 2,000-pound cylinder presses the fabric. The result of this process is the hardest playing surface of any billiard fabric made today. Because of this hardness, Championship billiard fabrics play faster than the fabrics of their competitors. More importantly, Championship's hard finish makes its fabrics more resistant to punctures. Fewer punctures or divots in the fabric result in less ball deflection and overall truer playability throughout the life of the fabric. Longer lasting fabric is also a byproduct of these special finishing processes.
The management and workers at Santiago take great pride in the high quality of the fabrics they produce. The greatest care and quality control measures are incorporated to assure the greatest possible consistency in color and quality at all times.
Championship's exclusive billiard fabric formula, along with Santiago's pride in craftsmanship and use of state of the art machinery are all combined to produce the best billiard fabrics in the world.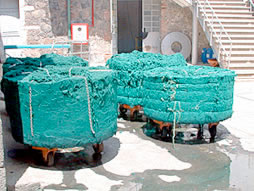 Stock dyed wool in the raw state before it is made into yarn.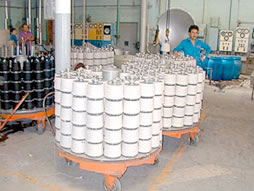 Yarn Dyed wool is one of three ways we dye our raw material.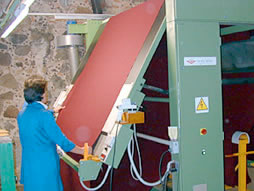 The cloth is constantly checked for flaws and when found, are marked for mending.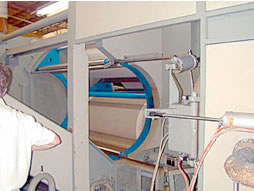 Vacuum Decating
is performed in the finishing process to assure a good, hard surface to play on.