D & R Industries, Inc. began in 1963 as a result of Dennis Ruber's and Richard Utanoff's vision (hence the name D & R). With nothing more than a telephone, working out of Richard's mother's bedroom in a small apartment in Chicago, Dennis and Richard began an amusement industry parts distribution business.
Through the years, D & R Industries, Inc. went through many changes and expanded into a variety of recreation-oriented businesses, but really found its niche within the billiard industry. After distributing billiard fabrics (along with other billiard supplies) for more than 25 years, it was clear to Dennis Ruber that there was a need for affordable high quality billiard fabrics.
The decision was made to switch from a billiard parts distribution business to become a manufacturer of high quality billiard fabrics. A team consisting of engineers, textile experts and old time billiard people worked together to develop what is now known as the "Championship Line" of billiard fabrics. Manufacturing billiard fabrics since 1990, Championship now sells more billiard fabric than all of its major competitors combined.
The tremendous success of Championship billiard fabrics confirmed the belief that our industry not only wants, but also needs high quality products at affordable prices. With that basic premise in mind, our experts got together to develop a line of high quality, affordable billiard cushions.
Engineers and experts at Championship have been working hard over the last five years to develop the finest billiard cushion rubber in the industry. All their hard work has paid off! Championship, as of 2002, is now a supplier of the most has clearly shown that the accuracy of this product is unmatched. Championship's cushion rubber can be found on the tables of many of today's major billiard table manufacturers.
In April of 2011 Championship acquired MBS Group and its brands. DFS Table Covers, Cin-Caro Plastic Parts, and MBS Cushions Rubber. The addition of MBS and their entire staff has put Championship back into the Full Line Distribution Business.
The people at Championship have been proud to be a part of the billiard industry for over 50 years. Today, we provide the finest billiard fabrics, table covers, Silver Cup Chalk, cushion rubber, component parts and accessories the industry has ever known.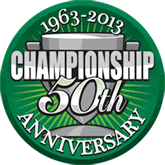 ---
Dennis Ruber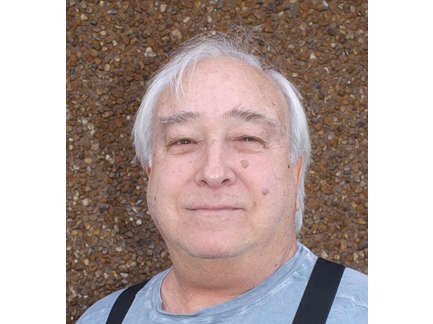 Dennis Ruber
Chairman, Chicago, IL
Hobbies: NBA Junkie, Base Jumping, Hot Air Ballooning, and Sky Surfing
Movie: Sophie's Choice
TV: NBA Hoops (TV)
Food: Showgun (Book)
Family: Married with 3 daughters, and a Happy Zadie
Favorite Quote: "Live every day as if it were your last"
Fred Michael Cohen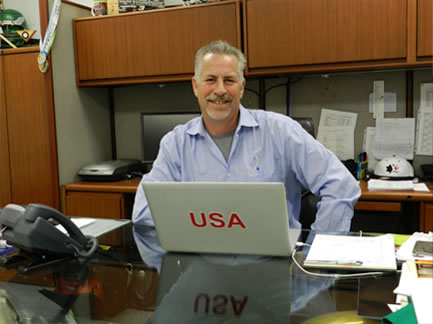 Fred Michael Cohen
President, Philadelphia, PA
Hobbies: Fast Pitch Softball, Coaching Football & Baseball, ATVing, Snowmobiling, and working at the Lake House.
Embarrassing Moment: Too many to pick just one. I spent a part of my life in a costume and my job was to embarrass people.
Quote: "Son only two things fall out of the sky, Bird crap and idiots, and you are not jumping out of a plane" – My dad.
Movie: Remember the Titans
TV: Big Bang Theory
Food: Pizza, Italian
Color: Championship Green
Superhero: My Dad
Champ Cloth: Tour Edition
Best Gift: A repaired heart valve in 1999
Boxers or Briefs: Compression Briefs
---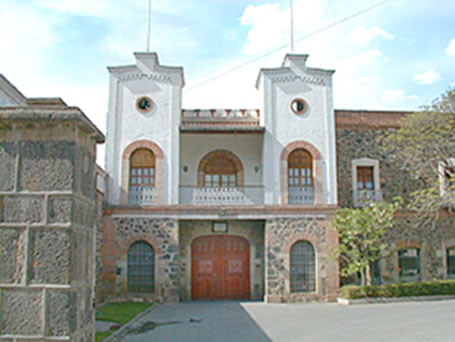 The mill that produces Championship billiard fabrics is located in Santiago, Mexico, a small city located outside of Mexico City. Built in 1888, the Santiago mill is now owned and run by Martin Urrutia. Martin is the 4th generation of his family to own and run the 540,000 square foot facility where some of the finest textile products in the world are produced.
Originally a flour mill and then a maker of burlap bags, the Santiago mill is now the premier manufacturer of billiard fabrics in North America and a leading supplier of fabrics to the men's apparel industry.
Part of what makes Santiago superior to any other mill producing billiard fabrics today is its state of the art machinery. Santiago is the only mill to use an active shearing machine and a vacuum decating machine in the finishing of its billiard fabrics.
The active shearing process uses laser beams to shave the fabric on the top and bottom giving Championship fabrics the smoothest playing surface available today. In addition to creating an ultra smooth finish, active shearing practically eliminates the annoying and undesirable pilling that is commonplace in the billiard fabrics of Championship's competitors.
The vacuum decating machine is the final piece to Championship's finishing process. While being steamed, a 2,000-pound cylinder presses the fabric. The result of this process is the hardest playing surface of any billiard fabric made today. Because of this hardness, Championship billiard fabrics play faster than the fabrics of their competitors. More importantly, Championship's hard finish makes its fabrics more resistant to punctures. Fewer punctures or divots in the fabric result in less ball deflection and overall truer playability throughout the life of the fabric. Longer lasting fabric is also a byproduct of these special finishing processes.
The management and workers at Santiago take great pride in the high quality of the fabrics they produce. The greatest care and quality control measures are incorporated to assure the greatest possible consistency in color and quality at all times.
Championship's exclusive billiard fabric formula, along with Santiago's pride in craftsmanship and use of state of the art machinery are all combined to produce the best billiard fabrics in the world.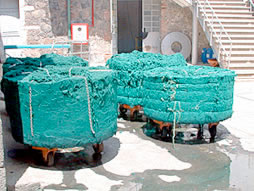 Stock dyed wool in the raw state before it is made into yarn.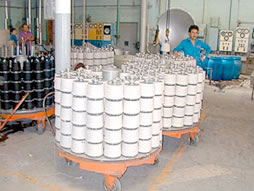 Yarn Dyed wool is one of three ways we dye our raw material.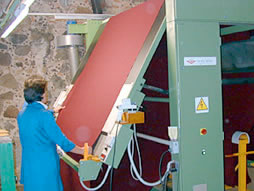 The cloth is constantly checked for flaws and when found, are marked for mending.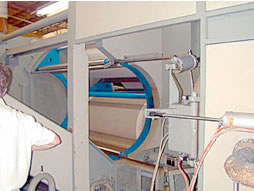 Vacuum Decating
is performed in the finishing process to assure a good, hard surface to play on.